Live Oak Landing is an existing county-own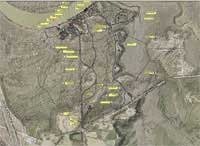 ed park located just northwest of the Alabama Highway 225 exit of I-65 and is adjacent and immediately south of Baldwin County's Bicentennial Park.
The main entrance is located off of Alabama Highway 225 approximately 3,500' north of I-65.
Existing features of Live Oak Landing include approximately ½ mile of shoreline along the Tensaw River with an existing boat ramp, fish cleaning facility, restrooms, small fishing pond and a mix of existing and abandoned structures in various states of repair and use.
During the its heyday as a private recreation attraction in the 50's and 60's, the site played host to many house boats and RV trailers in addition to the area's boaters with multiple boat houses, wharves, a store, fuel pumps, etc.
Live Oak Landing is currently active with boaters on a daily basis and is scheduled host to multiple fishing tournaments throughout the year with upwards of 150 boaters at some events. Existing infrastructure within Live Oak Landing includes a paved main entrance/loop road, buried phone and fiber optic lines and power lines, water (and soon to be available sanitary sewer). A temporary guard booth greets visitors and collects entrance fees. The vast park includes a diversity of plant communities and natural features; the forested areas of the park include numerous mature specimen hardwoods, as well as, archeological features, dirt roads to serve as trails, and several other natural gems. The master plan proposes to restore some of the nostalgia of the past while transforming Live Oak Landing into a regional destination with infrastructure improvements for boaters.
The Baldwin County Commission approved the Live Oak Landing Master Plan during the May 7, 2013, Baldwin County Commission Meeting. The approved master plan includes plans for picnic shelters, public restrooms, expanded boat ramp, fish cleaning stations, themed village, overlook pavilion, kayak/canoe launch, splash pad and playground,
restaurant
, mountain bike trail, cottages and much more.