For a complete guide on how to prepare for disasters that may affect you, check out the new 2022 Alabama Gulf Coast Emergency Preparedness Guide. The Baldwin County Emergency Management Agency (BCEMA) is very grateful for the opportunity to partner with Gulf Coast Media to assist in making this publication a resource for our community. It is designed to guide you along the way to preparedness in one of the most beautiful areas within the Continental United States. The overarching goal of the guide is to be easy to read, perhaps learn something you did not know, and to encourage all to be prepared as we enjoy the best of what Alabama has to offer.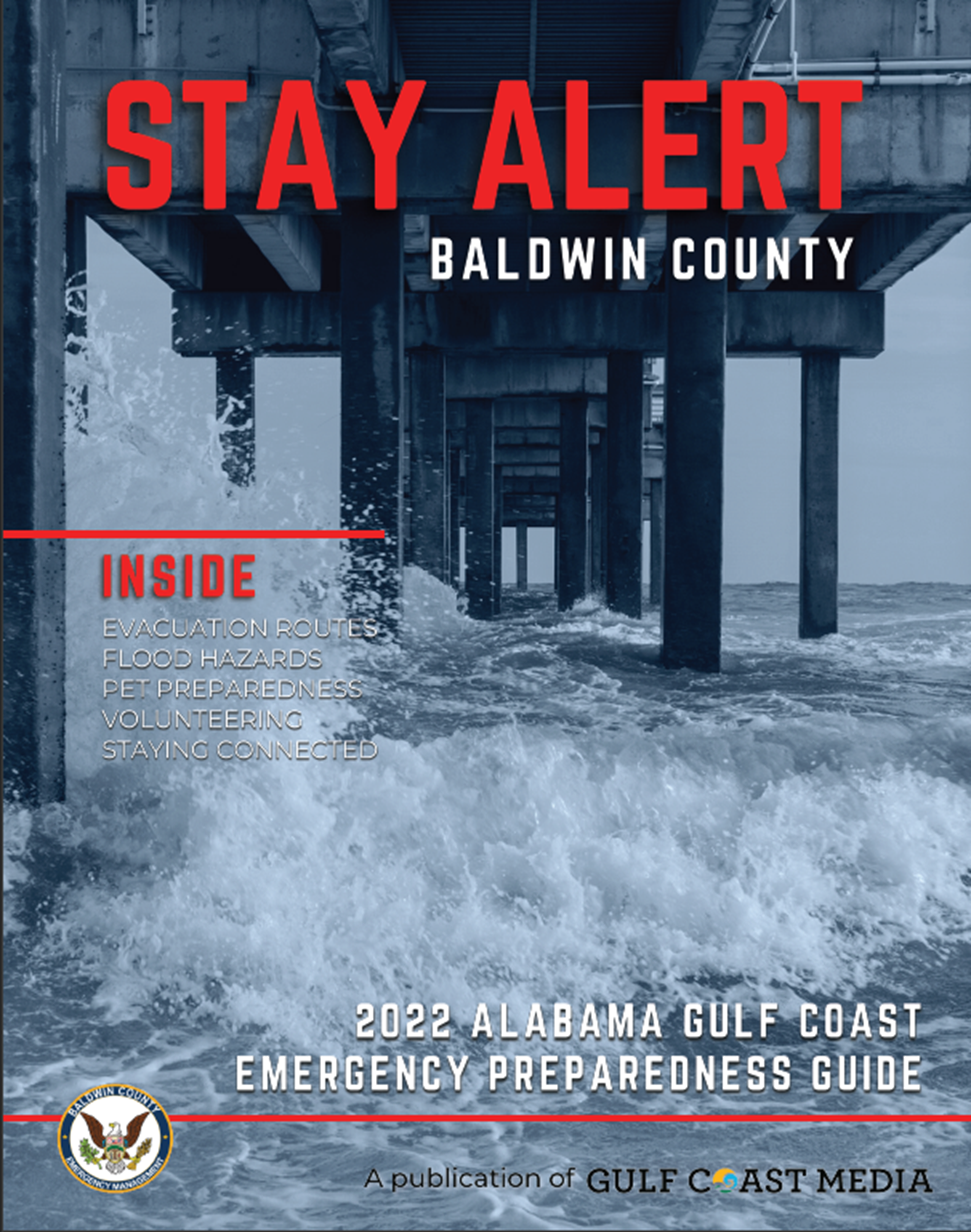 ---
Welcome to Baldwin County Emergency Management Agency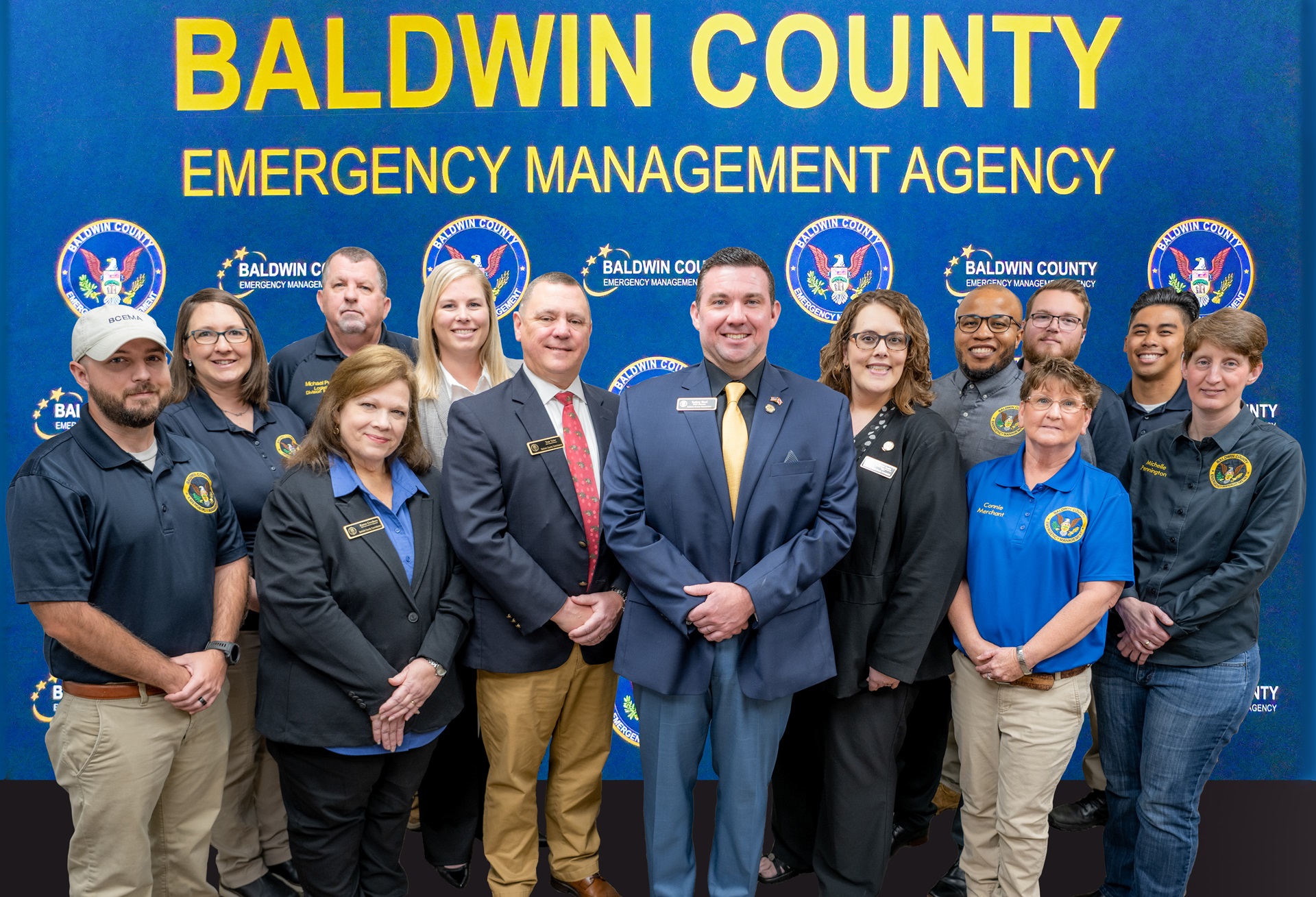 The Baldwin County Emergency Management Agency is a vital part of the community, working hand in hand with our partners and the residents of Baldwin County to ensure that the place we live, and work is safe and prepared in the event of an unforeseen emergency or disaster event. We have a great staff that is always willing to help our community.
At BCEMA, we have outlined five goals:
B – Build Relationships
E – Establish Consistency
E – Encourage Communication
M – Maintain Expectations
S – Structure Cohesion
Baldwin County EMA seeks to promote safer, less vulnerable communities with the capacity to cope with hazards and disaster. Please review our website to discover information and resources we have available as you prepare for and learn more about hazards that may affect Baldwin County. We do not wish to scare you, our goal is to help you prepare to make the best decision possible for you, your business, and your loved ones. Please let us know how we can serve you!
- Baldwin County EMA
---
A Statement from the Director
Growing up and living in Alabama my entire life, I can describe in detail three different disasters that have an everlasting impact on me as I sit here in this very moment. You may be interested in the fact that they are not all related to weather. The first memory I have is sheltering for a tornado still known today as "April's Fury", the second is the attacks on the World Trade Center, and the third is the tornadoes that occurred throughout the state on April 27, 2011. The three events described are the very reason why I am so passionate about building a long-lasting relationship with you. From time to time we are afforded the opportunity to attend various functions in our local area. During the event you will find us discussing BCEMA, linking individuals to various resources about emergency preparedness, and listening to how we can best be of service to the families and individuals in our area. Before long you will recognize that a group of individuals that do not know each other are sharing something we all have in common; we have a story to tell about weather.
Most days in our area are beautiful. Year after year we experience some of the best festivals, most beautiful beaches, and a thriving environment where people want to stay, live, and work. Baldwin County and Mobile County are the only two counties in Alabama located along the Gulf Coast. We are also home to the second largest delta system in the world. There is something for everyone.
Day to day we find ourselves supporting our families, contributing to our communities, and enjoying the diversity of our natural resources. With such a prosperous environment, when do we find time to learn, prepare, and plan for severe weather? Please think about that for a moment.
Truth be told, we only want to discuss weather when we want to tell our story. My encouragement for you is to tell your story more. Share your story with family, community organizations, civic associations, and to whoever may listen. Remember, your story may save someone's life, property, and most importantly encourage them to do something differently to plan, prepare, and protect what is near and dear to us all.
Tell your story more. There is great value in your story and if you don't know where to share – we will point you in the right direction at the end of this article. There is passion in your story. There is power in how it is told. There is no way to ever know the difference you will make in someone's life.
Please follow us on social media and sign up for emergency alerts from BCEMA at AlertBaldwin.com. Connecting individuals with the right resource during the right time by using your story is a way we can all work together. Do you have a story to tell? We'd love to hear from you! Thank you for your influence in our communities and remember to Stay Alert Baldwin.
- Zach Hood, Director of Baldwin County EMA