Disability Accessibility
We are proud of the fact that we are able to furnish reliable, reasonably priced transportation for our county citizens with mobility disabilities. The lifts and wheelchair securement systems designed for our vehicles are easy to operate and make transporting passengers which are unable to enter our vehicles via the steps a very simple matter. When scheduling a ride, give 24 hours notice, inform us of your needs, and we will send the proper vehicle to accommodate those needs.
All vehicles are equipped with safety features including hand rails, well-lighted 8-10 inch striped steps and lifts that are 30" to 33" wide. Consistent with Department of Transportation regulations, BRATS will transport a mobility device/wheelchair with three or more wheels and its occupant so long as the lift can safely accommodate the size and weight of the mobility device and its occupant and there is space for the mobility device on the vehicle to be safely secured. The definition of a wheelchair is a manually-operated or powered-driven device designed primarily for the use by an individual with mobility disability for the main purpose of indoor or/and outdoor locomotion. Examples are manual and power wheelchairs and electric scooter used by people with mobility disabilities. If the device is powered; our drivers are not permitted to operate them at anytime.

Passengers utilizing a wheelchair may transfer to a regular seat in the vehicle, if the passenger wishes to do so and is able to complete the transfer with no assistance from the driver. Drivers are not permitted to lift or pull any individual to enable them to transfer into or out of a regular seat or wheelchair.

BRATS requires that all mobility devices be secured when being transported utilizing the 4-point securement system within our vehicles. Our drivers have been trained and are required to use a 4 and 6-point tie-down system for the safest securement for our passengers. Only BRATS trained staff is to operate the lift systems on our vehicles.

For origin to destination service, your home ramp must meet safety specifications, or you will be required to meet the driver at the vehicle. The safety specifications for home ramps states that they must be at least 36" wide, and that the maximum slope is 1:12 (it must have only a 1" rise for every 12" of incline). Further, the ramp must be constructed of decking boards installed crosswise for traction, and must have guard rails on each side. Ramps and wheelchair paths must be properly paved and/or kept clear of snow, ice, parked cars, trash, gravel, tree roots and other obstructions.

If your mobility devices and/or ramps don't meet the standard safety requirements, due to safety concerns we will request that these items be brought up to standards to eliminate safety hazards before our driver will be able to assist you further.

Any passenger whether in a wheelchair or not who is unable to enter or exit the vehicle by the use of the stairs may also utilize the lift for boarding and de-boarding the vehicle.

Remember the driver can only perform reasonable assistance when boarding and de-boarding. Reasonable assistance is defined as opening of a door, offering of an arm, or helping with minimal number of packages (See Parcel Policy). Drivers are trained to provide minimal assistance only and are not trained to provide medical assistance. BRATS offers origin to destination service meaning our driver will provide reasonable assistance within a 25 foot radius of the bus. Our drivers must maintain sight of the vehicle to ensure the safety of any passengers on board as well as security of the vehicle itself. We do not enter homes and there is a limit of three (3) steps, so passengers please have a friend or family member accompany you as a Personal Care Assistant (PCA) if you need further assistance. There is no charge for one Personal Care Assistant to ride.
Service Animals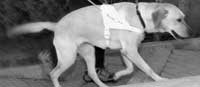 Animals such as guide dog(s), signal dog or other animals individually trained to work or perform tasks for an individual with a disability, are welcome to board the vehicle with the disabled person at no charge. The animal trained to work or perform tasks for an individual is to be under the control of the individual not BRATS. If an animal has created a prior incident posing a direct threat to the health and safety of others, the service animal will be excluded from service with BRATS. Please respect that these are working animals and are not to be touched or distracted while performing their duties.