Biography
Commissioner Charles F. "Skip" Gruber is a third-generation member of the Baldwin County, Alabama community, born in the unincorporated Battles Wharf community in 1950 (Baldwin County) and currently residing in the Town of Elberta.

Commissioner Gruber served, with distinction, as the former Mayor of the Town of Elberta from 1994 to 2006 and served as a former member of the Town Council of the Town of Elberta from 1979 to 1994. Commissioner Gruber is a graduate of Foley High School (Class of 1968) and served twenty-five (25) years in the United States Army Reserve/National Guard.

A stalwart advocate for Baldwin County, Commissioner Gruber is a former thirty (30) year employee of the Baldwin County Commission serving, during such time period, as a Supervisor for North, Central and Southern Baldwin County Highway Department facilities as well as a Project Coordinator for the Baldwin County Highway Department providing oversight as to a myriad of projects. Further, Commissioner Gruber served as a Project Coordinator during the time when Baldwin County established its first Sub-title D Landfill.

Commissioner Gruber was conferred Advanced Certification in Municipal Government and remains a past Board Member of the South Baldwin Chamber of Commerce, former Board Member of the Baldwin County Economic Development Alliance, and a former member of the Planning Commission of the Town of Elberta.

Commissioner Gruber was also appointed in December 2012, to serve a full term, ending on December 31, 2015, as a member of the Association of County Commissions of Alabama Workers' Compensation Self-Insurers' Fund Board of Trustees. He is a member of the Florida-Alabama Transportation Planning Organization, and a member of the Perdido Bay Optimist Club.

A member and Usher at St. Bartholomew Catholic Church, in Elberta, Commissioner Gruber and his wife, Yvonne, have two children: Ashleigh and Michael, a son-in-law Branton Bailey, a daughter-in-law Heather, five grandchildren: Tucker, Benjamin, Caroline, Campbell and Hudson, and one great-grandson: Ryker.

A Republican, Commissioner Gruber is currently serving his fifth term on the Baldwin County Commission (Terms: 2006-2010; 2010-2014; 2014-2018, 2018-2022, 2022-2026).

Honorable
Charles F. (Skip) Gruber
District 4 Commissioner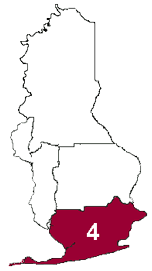 Municipalities
City of Foley, Town of Elberta, City of Gulf Shores, City of Orange Beach, Town of Perdido Beach and Town of Magnolia Springs
Communities
Historic Marlow, Fish River, Bon Secour, Oyster Bay, Miflin, Josephine, Ono Island, Fort Morgan and Lillian
Office of County Commissioner, District 4
Baldwin County (Foley) Satellite Courthouse
201 East Section Avenue
Foley, Alabama 36535

Mailing Address:
312 Courthouse Square, Suite 12
Bay Minette, Alabama 36507
Phone: 251.943.5061, Ext. 2804
District 4 Executive Assistant
Jeannie Peerson
Foley Satellite Courthouse Commission Office
Phone: 251.943.5061, Ext. 2801

Contact District 4 Commissioner
County Administration Main Office
Baldwin County Administration Building
322 Courthouse Square
Bay Minette, Alabama 36507

Mailing Address:
312 Courthouse Square, Suite 12
Bay Minette, Alabama 36507
Phone: 251.937.0264
Email
Media Information and Requests
Public Information and Communication Specialist
Taylor Bufkin
Phone: 251.972.8552
Submit Media Request