Please note: This department does not have the capability to add a Star ID, process out of state transfers, driver license testing, reinstatement, or changes to endorsements and/or restrictions. These transactions must be handled with the Alabama Law Enforcement Agency. For more information about STAR ID, please visit the ALEA website:(https://www.alea.gov/dps/driver-license/star-id). To reach the local ALEA office you can call 251-990-4690 or Find your nearest Drivers License Examiner.
If you do not already have your REAL ID or STAR ID please click here for more information as the deadline to comply with the FEDERAL REAL ID ACT is May 7, 2025.
Any Alabama license or identification card issued on or after April 25, 2022, that is not compliant with the REAL ID Act of 2005 (not a STAR ID), will display "Not for Federal Identification" across the top of the credential.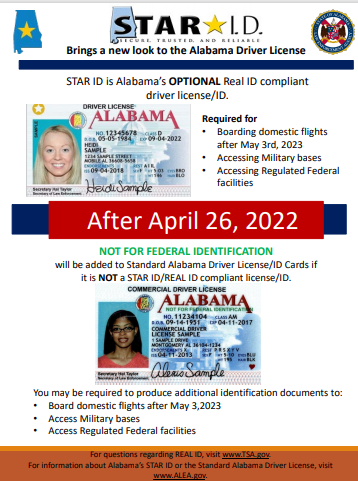 ______________________________________________________________________
The
Probate Licensing Offices
process renewals and replacements only for Alabama Driver License or ID cards. You can schedule an appointment at any of our Probate Office locations in Baldwin County - Bay Minette, Fairhope, Foley, or Robertsdale.
Probate Online Scheduling Portal.
An online renewal option is available once every eight years, as long as you aren't making changes to the information on the license.
Alabama Online Renewal

Replacements:
If you need to replace a lost or stolen Alabama Driver License or ID you must bring in at least 1 form of identification that is listed under the
Primary Documents or Social Security Verification Documents
on the
Alabama Law Enforcement Agency website
.
Most commonly used documents include your original social security card, a certified copy of your birth certificate or your passport.
You may also request a duplicate online at
Alabama Online Driver License Services
.

Name Changes:
If you are wanting your name changed on your Alabama driver license you must have the following:
1. The social security card with the new name on it.
2. The applicable name change documentation:
Your marriage certificate
Divorce decree which includes verbiage specifying that you will be changing your name
Other court ordered change of name documentation
PLEASE NOTE: Probate cannot process name changes for applicants who currently hold a StarID. Those applicants must process with an ALEA Driver License Office.
A duplicate fee will be charged for a corrected license.
Commercial Driver License operators must go to a ALEA Driver License Office.
Replacement Fee (for Lost/Stolen Driver License or Non-Driver ID and Name Changes): $31.25
Helpful Numbers to know:
Information on Driver's License
, Permit, State Identification, or Vessel License, please call: 251.990.4690 (Baldwin) 251.660.2330 (Mobile) or 334.353.1470 (Montgomery).
For information on Commercial Driver's License (CDL) please call: 334.242.3427