Welcome to Baldwin County Revenue Commissioner's Website
---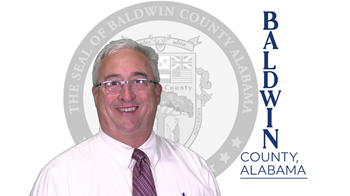 As the
Revenue Commissioner of Baldwin County
Teddy J. Faust Jr., and on behalf of my staff, we would like to welcome you to the Baldwin County website. We are very proud of our beautiful and diverse county, but we feel it's our people who make it such a wonderful place. We are glad that you have chosen to visit our website and thank you for allowing us to serve.
Our goal is to provide you with the ability to do business with our county online, whether it is paying your property taxes, researching county tax records or deed information, viewing tax maps, etc.
---
The Baldwin County Revenue Commissioner's Office is dedicated to providing efficient, convenient, professional service to the taxpayers of Baldwin County.
The Revenue Commissioner's Office is responsible for mapping, appraising and assessing each parcel of property and then collecting tax based upon each parcel's assessed value.


****Public Notice regarding our software transition beginning September 13, 2022****
Important Things to Remember:

Taxes due on October 1st and delinquent after December 31st
Tax Bills are not mailed to mortgage companies.
Failing to notify us if your mailing address has changed, may result in not receiving your tax bill.
Check with our office when turning 65 years old for any tax exemptions you may qualify for.